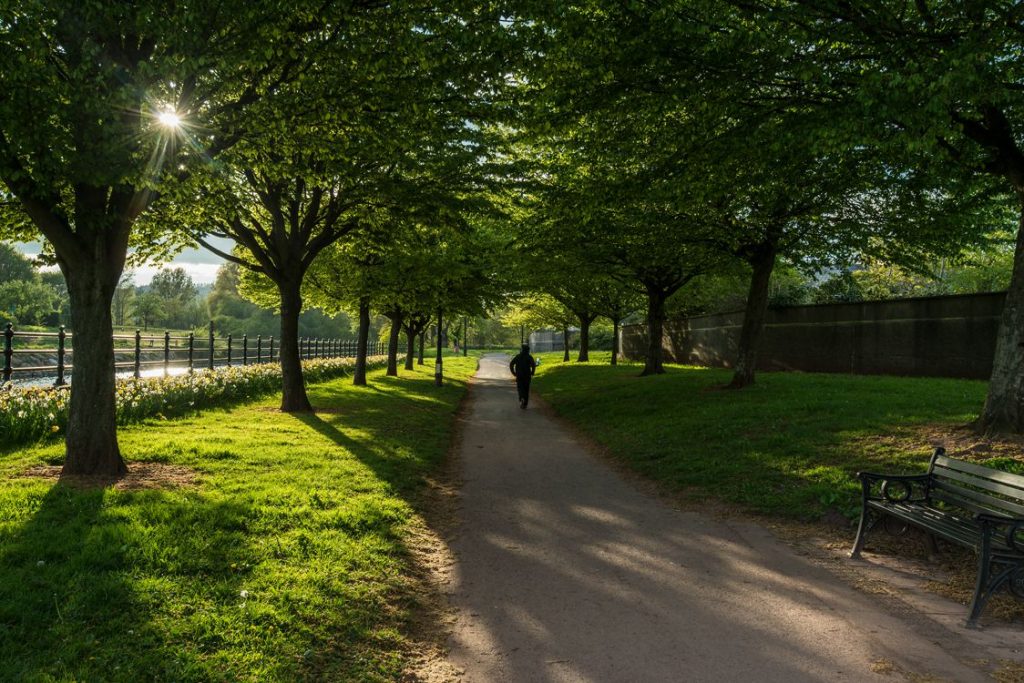 Stunning views of the Beacons
There are a number of interesting trails around Brecon relating to various aspects of its long history.
Beautiful town, in a beautiful setting
Brecon and its surroundings are an ideal landscape for walking or hiking, and it is for these activities that the Beacons themselves are best known.
The countryside is blessed with hills, mountains, open moorland, ancient oak woods and quiet riverside paths, such as the Gurkha Walk, while the town has a guided historical walk, and a nearby canal towpath. A number of walks can be accessed easily from the town centre for those who have limited time at their disposal or who do not wish to venture too far away from the town itself and many of these have already been mentioned. For the more adventurous, for whom the hills and mountains beckon, there are many linear and circular walks that can also be accessed by foot or bus from Brecon itself, as well as well as by using the car. Views of the magnificent scenery can be had from the National Park Visitor Centre, which is located a few miles outside the town and has its own information centre offering insights into the geology of the Beacons.
In summary, all levels of walkers can find something to suit in the area, whether staying for a couple of days or longer, and there is a wealth of information available in the Visit Brecon Office in Lion Yard, just off the main car park.
Take a poetry walk around the town, featuring slate plaques with four- line verses from ten Welsh poets, who were specially commissioned to produce these as a permanent artistic installation for the town and its visitors. The route is outlined on our town map which is available from our office, and there is also a leaflet in our office to accompany the map.  .
Churches and Chapels Walk
A Churches and Chapels walk will underline the importance of nineteenth- century non-conformism in the town. Some of these buildings have now been converted for other uses, but others are still active places of worship. The Catholic Church, St. Michael's, where the famous Spanish operatic singer Adelina Patti married her third husband in 1899, is an early example of a Gothic style Roman Catholic church.
Brecon's military heritage is mentioned frequently on this site and in addition to The Regimental Museum itself you can visit other sites of significance in this history. These include: the King Charles 1 steps, the Brecon War Memorial, Captain's Walk and The Peace Garden.
To take in our rich Georgian architectural heritage we can point you in the direction of several streets with fine and varied examples of houses built in this era. The houses are mostly listed and have colourful panelled doors and interesting fenestration.
Two other interesting walks are along the river from the canal basin to the Bandstand on the Promenade and a Back of Brecon town walk. This circular walk explores the rich history of the back streets of the town and starts from Visit Brecon.
Further information regarding  walks can be obtained from our office in Lion Yard, called Visit Brecon. It's well- signposted from the main car parks in town. If you wish to contact us prior to your visit please do so at office@visitbrecon.org.uk or telephone 01874 620860.
The walks vary considerably in terms of length and require different levels of stamina and ability. There is something for everyone however! Staff and volunteers at Visit Brecon will be able to advise you accordingly.