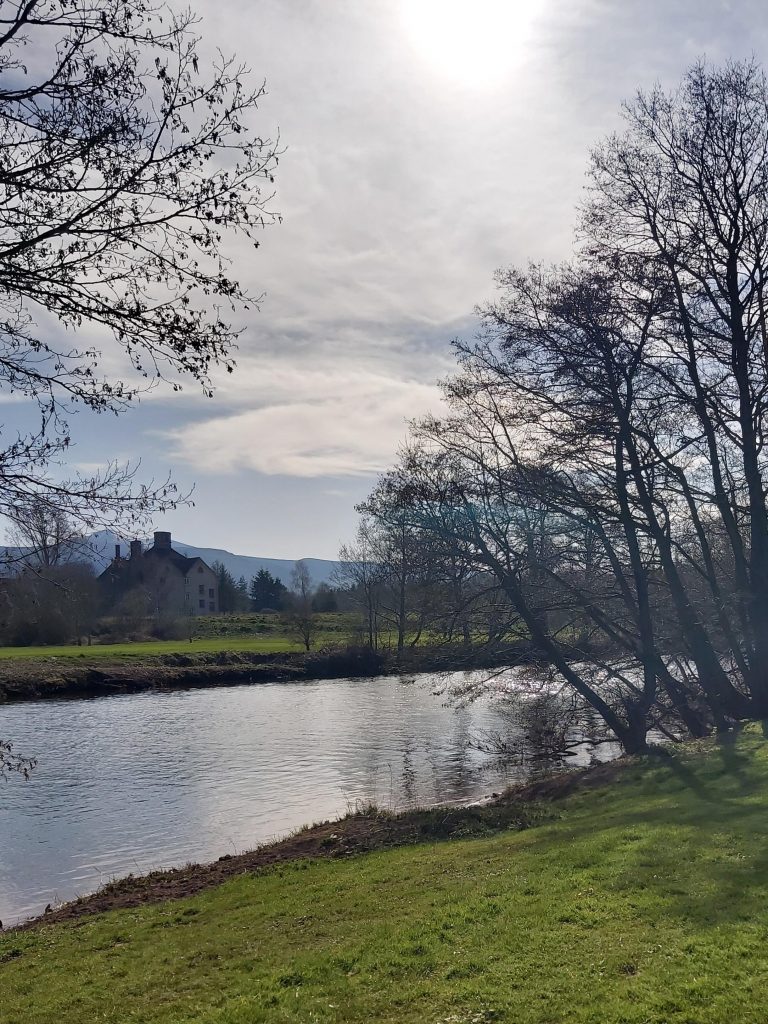 A scenic walk along the River Usk
GRADE is easy an easy ,flat walk, but with uneven terrain in places, so care is needed : not suitable for wheelchairs, and caution required with small  children on account of proximity to the river
A scenic walk along the River Usk, beyond the Promenade, offering lovely views of the mountains. On this circular walk, you will follow a grass path along the river until you turn up a short slope to rejoin a quiet road running parallel to The Promenade.
We hope you'll enjoy this 7k (approx.)circular walk along the River Usk, starting at Brecon Promenade car park. There's ample parking at the Promenade which can be found by putting LD3 9PG into a Sat Nav or asking for directions to The Boathouse.
The walk, which is fairly easy but not suitable for wheelchairs, takes about 2 hours so allow at least that when feeding the Pay and Display meter.

Begin at the bottom right hand corner of the car park (if you're facing the river) and follow the wonderful River Usk past a small play area and then on your right you will see Brecon Town Council's information board and bandstand. The asphalt path veers off to the right and heads up to the toilets but for this walk stick to the river bank and follow the grass path until you come to a stile then follow the river path through the mixed woodland. 
The Usk is famous for its Atlantic Salmon and otters and the Brecon section has an abundance of heron which you may spot doing a bit of fishing. There are a few tricky rises and falls along the path so a good pair of walking shoes is advisable. Otherwise it's fairly plain sailing, with lots of spots where you can stop and watch the river flowing past, see the fish jumping or perhaps have a picnic. The path eventually turns right up a short slope to the road. At the top turn right and walk back along the road (take care as it's fairly narrow) which will bring you back to the Promenade Car Park where you can sit and have an ice cream and look at the spectacular view of Pen-y-Fan in the distance across Brecon
Golf Course.
DISTANCE: 3.5 miles
REFS: Grid: SO042286
 POSTCODE: LD3 9AN
STARTING POINT: The Promenade, Brecon 
TIME: 2 hours (approx.)
FACILITIES: There are toilets by the Promenade car park.