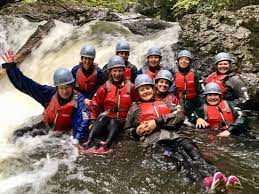 From Boating, Bicycling, Walking & Sightseeing.
Brecons Best Outdoor Activities
One of the joys of cycling is the freedom to follow the trails and roads that take your
fancy as you pedal along.The Brecon area has hundreds of miles of small roads to
explore, as well as several cycle trails, including the aforementioned Taff Trail.
You will find pedalling adventures to suit every taste, from the serious mountain
biker to the easy family outing. We hold details in our office of bike hire facilities, as
well as cycle routes across the Beacons.
Rivers, lakes and reservoirs are plentiful in the Brecon area and offer various kinds
of angling, with the Brecon Beacons providing a beautiful backdrop to the River Usk.
The river is inhabited by brown trout and salmon, as well as many other species,
including minnows, stone loach and bullheads. A number of birds can occasionally
be spotted along the river: kingfishers, dippers and sometimes sandmartins, and the
River Usk is an important bat corridor. The Usk is considered to be one of Wales'
premier game fishing rivers.
Angling information and permits are available from our office.
Brecon and the surrounding area offers water enthusiasts a range of options, from the peace and quiet of a slow paddle down the canal on the River Usk or on nearby Llangorse Lake, to extreme kayaking over mind- blowing waterfalls.
Kayaking, canoeing and paddle boarding – in fact whatever boat floats you – are available
somewhere in the area- all with stunning views of the Breconshire countryside. Kayaks,
rowing boats and paddle boats can be hired from the boathouse on the Promenade. If a
gentle cruise along the canal in a narrow boat is more your scene, there are regular daily
trips as well as self- drive boats for hire.
Water graded from Grade 1 (easy) up to Grade 6 (extremely hard)can be found within a
short distance of the town.
More details are available from Canoe Wales www.canoewales.com and The Wye and Usk Foundation www.wyeuskfoundation.org.
The Canal and River Trust
www.canalrivertrust.org.uk has information on the Monmouthshire and Brecon Canal.
Our staff and volunteers at Visit Brecon are always at hand to help you find the paddling
experience you're looking for – happy sailing. Call in to find out more!